---
Cieneguilla is a district located in the province and department of Lima, in the Valle of Lurín.
It's known for its picturesque landscapes and mild weather along the year(the average temperature is 18°C). This district is one of the favorite destinations for those who want to escape from the crowds and spend some days away from the city and enjoy nature. Keep reading to know more about this interesting place and find out what you can do on your visit.
General information
Cieneguilla was created as a district on March 3, 1970. This district has a territorial extension of 240.33 km2, where there are populated centers such as Huaycán, Chacra Alta and Tambo Viejo among others.
How to get to Cieneguilla
By public transport: It's easy to get there by public transportation, what you should do is take the minibuses that pass through Javier Prado avenue to Cieneguilla, the cost of passage is about 3 to 4 soles, the car will leave you in the same district.
Distance: 38 kilometers.
Time: 2 to 3 hours
By private car: To get there in your own car, you must go along Javier Prado avenue, until the intersection with La Molina Avenue, cross the district of La Molina and continue until you reach Cieneguilla.
Distance: 40 kilometers.
Time: 1 hour and a half to 2 hours.
What to do in Cieneguilla?
Horseback riding: The left bank of the river that passes through the valley has been declared a Local Sanctuary of the famous Caballo de paso peruano no wonder why in Cieneguilla you'll be able to practice horseback riding with the best specimens.

Extreme sports: If you love adventure, Cieneguilla also offers different circuits for practicing extreme sports such as:mountain biking, rock climbing and even motocross. During the summer, you can even go canoeing on the Lurín River.

Archeological ruins: If you are more interested in archaeological attractions you can visit the ruins of Huaycán. These are remains remains of what, possibly, would have been an urban space dating from the 15th century.

Camping: As we mentioned before, in Cieneguilla there are areas for camping. You just have to bring your sleeping bag and tent and enjoy!.

Try delicious food: Least but not least whoever visits this interesting district of Lima can't leave without testing the delicious dishes offered in the area. In Cieneguilla you'll find a variety of restaurants that offer the best dishes of the Highlands of Lima. Pachamanca, dishes based on trout, guinea pig, picarones, as well as other options of comida criolla, such as grilled chicken, ceviche, etc. are offered in the many restaurants located from the entrance oval throughout most of the district.
When is the best time to visit Cieneguilla?
Cieneguilla has an average annual climate of 18°C so anytime of the year is a good time to visit and escape from the cold weather in Lima, especially in winter. Many visitors interested in ecotourism get to Cieneguilla to enjoy the beautiful natural scenery and also camping.
Where to stay in Cieneguilla?
The district has several country clubs or establishments that offer their facilities for accommodation. You'll find camping areas where you can bring your tent and spend a nice weekend camping and making barbecue. For those who like to be more comfortable they also rent bungalows or cabins.
If you need more information about other places to visit near Lima, we strongly recommend you to click here.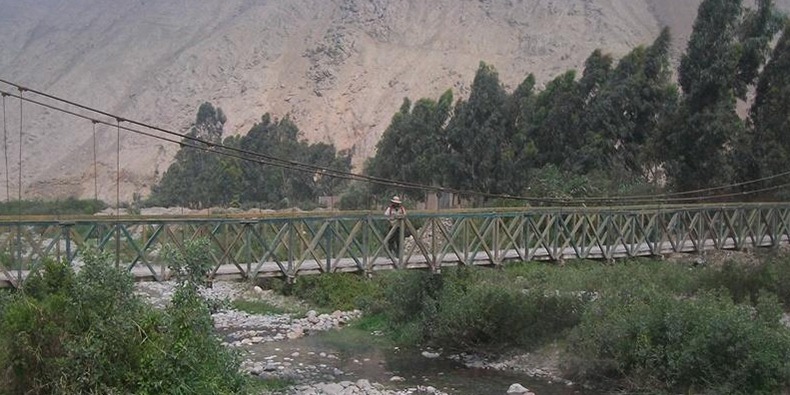 There's no doubt that if you want to recharge energy and disconnect in a place not so far from the city then Cieneguilla is the right place to go. Go ahead and visit this small corner of the Lima mountains where you'll be able to enjoy its great weather and experience unforgettable adventures. You won't regret it!.